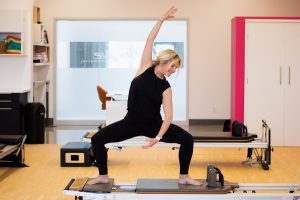 Studio Technique is a beautiful studio located in the heart of Central Burlington on Harvester Road, in between Guelph and Walkers Line with on-site parking available. The studio first offered classes early in 2003 and gained the reputation of being "The" Pilates Studio in Burlington. For the past 8 years our STOTT™ Certified Instructors have provided unparalleled personalized service to their clients.
Studio Technique offers a fully equipped facility that includes Mats, Reformers, Stability Chairs, Barrels and the Cadillac. Hundreds of different exercises can be performed using STOTT™ professional equipment. You'll never do the same workout twice and every exercise can be modified and adapted to fit the individual needs of the client. Our class sizes are small to ensure a safe and challenging workout. We specialize in private and small group mat/reformer sessions for men and women with customization for any age or ability.
We offer many different types of Pilates classes, from private instruction to group sessions and also the amazing BARRE FITNESS CLASSES! Our Owner Lauren Crowther is also very proud and honoured, as she's an Ambassador for Lululemon Burlington at the Mapleview Mall.
Please feel free to navigate our website and contact us if you have any questions. We look forward to working with you soon!
About Pilates
STOTT PILATES™ is a contemporary approach to the original exercise method pioneered by the late Joseph Pilates in the early 1900's. He was a sickly child and he overcame his illnesses by exercising. He designed equipment using springs straps and pulleys so that patients could exercise while lying down. It was out of this need that he developed the Reformer, Cadillac and other Pilates props. The Pilates method is a body conditioning routine that helps to not only build flexibility, strength, endurance, and coordination in the legs, abdominals, arms and back.
It seems like everyone is either doing Pilates, or interested in starting a Pilates exercise program. Indeed, one of the best things about the Pilates method is that it works so well for a wide range of people. Athletes and dancers love it as do seniors and women rebounding from pregnancy. It can also benefit those who are at various stages of physical rehabilitation.
People say that when doing Pilates they feel stronger, longer and leaner. They also say that they're able to move with more ease and grace.
Modification is the key to the success of the Pilates method. All exercises are developed with modifications that can make a workout safe and challenging at any level.