LIGHT EQUIPMENT
Light equipment such as the Flex Band, Toning Balls, Fitness Circles, Bosu Balls, and Foam Roller will allow you to focus more on strengthening the core while at the same time adding variety to your workout. While maintaining core stability, these light props also challenge balance and strength.
BARRELS
The Barrels were designed to be used as a way to open the chest and to correct and restore the curve of the spine.
STABILITY CHAIR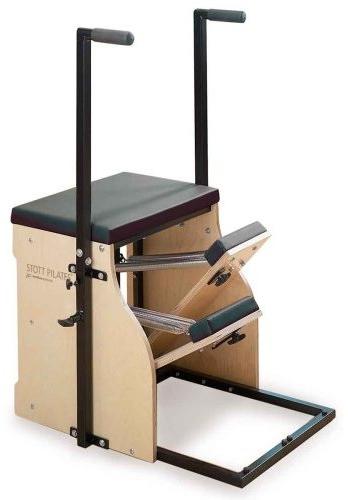 Though the basic design is simple, there are a myriad of exercises that can be performed on the Pilates Chair. It is excellent for strengthening the core muscles arms and legs. Exercises are done lying, sitting, and standing on the Stability Chair, as well as from positions to the sides. One can expect a lot of stability and flexibility work on the chair. It is truly a testament to the ingenuity of the Pilates method to see how many exercises can be done on this diverse piece of equipment.
REFORMER
The Reformer is the main piece of equipment used in Pilates exercise. The Reformer glides forward and backward on rollers and uses springs as resistance along with other attachments for a wide variety of exercises and positions. You can use this machine lying down, seated or standing.
CADILLAC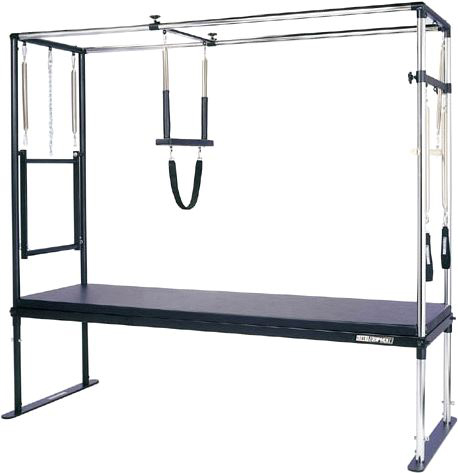 The Pilates Cadillac is an extremely versatile piece of Pilates Equipment and like all other pieces of Pilates equipment can be used to progress and regress movement in order to address the functional needs of the advanced as well as the beginner Pilates enthusiast. Because the Cadillac is such a large piece of equipment it is rarely used in a group classes. The best way to experience this machine is in a private Pilates session.
STOTT PILATES® photography ©Merrithew Corporation