MOMMY & BABY BARRE
This class is designed specifically for postpartum women. This 50 Minute class focuses on strength, posture, endurance, flexibility & core. Inspired by a blend of ballet barre work, strength training & Pilates, these classes use the barre to help with balance by using a variety of equipment. You have the option of using a baby carrier or simply lying your little one on the mat. Nursing, feeding, bouncing, & crying are all normal activities here!
MIX BARRE 
Stability Barre also known as TOTAL BARRE is a high energy exercise program that combines elements of STOTT PILATES Mat work, ballet barre work, and athletic conditioning exercises. It incorporates light weights, resistance band, and the stability ball. Core Barre helps to gain graceful movement patterns while building strength and endurance particularly in the legs and glutes (your bum). The workout is geared towards all fitness levels.
The emphasis is on small intensive movements to condition and define the muscles combined with stretches to lengthen them and increase joint flexibility.
The principles of Stability Barre are STOTT PILATES based to create efficient and safe exercise where body strength and awareness are increased as well as flexibility and balance. The goal created when using Core Barre effectively is to focus on the quality of the movements with proper form and to reduce the risk of injury or over use while working in a safe environment with a qualified instructor.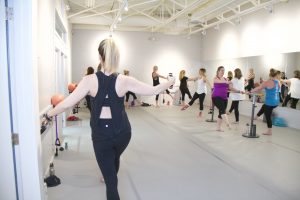 INTRODUCTORY PRIVATE SESSIONS
To establish a foundation of the Pilates method we recommend 5 introductory sessions. This will allow your instructor to tailor a personalized program to suit your needs. Based on the assessment your instructor will introduce fundamental Pilates exercises customized to your goals and fitness level. This personalized evaluation is intended to educate and provide the client with foundation from which to continue a Pilates program. After completing the introductory sessions you may continue with private sessions or join a semi private or small group class.
PRIVATE SESSIONS
In Private sessions, you will work out on a one to one basis, following a customized program, which we will tailor to meet your specific goals and needs. Private sessions are beneficial if you are currently recovering from an injury, for pre or post natal exercise, sport specific training or just for overall conditioning.
SEMI PRIVATE CLASSES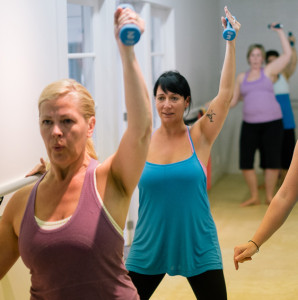 Semi private sessions are geared towards a customized workout while at the same time providing the advantage of having someone to work out with. Most often semi private classes consist of two friends, a mother and daughter or couples.
PILATES SMALL GROUP CLASSES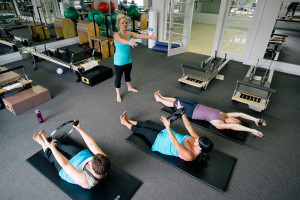 Small group classes consist of 3-5 people also referred to as our "small group" classes. In these, our most popular classes, you will receive the benefits of working on the Mat and Reformer. We offer a variety of light equipment while on the mat and you will also use some interesting props on the Reformer.
RATES
Now offering an UNLIMITED MONTHLY PACKAGE FOR BARRE & PILOXING for $125 a month!! (Please note that if you have signed up for a class, but do not show up, you will charged $15.00 cancellation fee as space in each class is limited).
BARRE FITNESS CLASSES
RATE PER CLASS
FEE
Five
$17
$85
Ten*
$15
$150
MAMA & BABY BARRE
RATE PER CLASS
FEE
Five
$16
$80
Ten*
$15
$150
MAMA & BABY PILATES
Drop In
$25
$25
Four
$25
$100
PRIVATE SESSIONS
RATE PER CLASS
TOTAL
Single
$70
$70
Five
$65
$325
Ten*
$59
$590
Twenty**
$54
$1,080
SEMI PRIVATE CLASSES
RATE
PER CLASS TOTAL
Single
$40
$40
Five
$39
$195
Ten*
$41
$410
SMALL GROUP CLASSES
RATE PER CLASS
TOTAL
Single
$30
$30
Five
$27
$135
Ten*
$25
$250
4 & 5 INTRO PILATES PRIVATES
RATE PER CLASS
TOTAL
Four
$40
$160
 Five
 $40
$200
Rates do not include HST
We accept cash, debit and visa*All 10 session packages must be used within 12 weeks from the purchase date**All 20 session packages must be used within 20 weeks from the purchase date
CANCELLATION POLICY
Makeup classes will be held on Saturdays from 9-10am. (except on long weekends)
Where possible we ask that you attend a make-up class during the same week in which the original class was missed.
PRIVATE SESSIONS:
24 hours notice is required to cancel a private session. If you are unable to give the required notice it will result in the loss of that session. Arrangements to reschedule should be made with your instructor.
SEMI PRIVATE & SMALL GROUP CLASSES:
24 hours notice is required from all participants in order to cancel the class. If one member of a duo or trio gives less than 48 hours notice of missing a class they can make up their session in a make-up class.
If sufficient notice is given, you will have the opportunity to reschedule or defer the session. It would be greatly appreciated if you notify us of any holiday plans or absences as far in advance as possible so we may have the opportunity to fill the spot.
In the event of bad weather the studio voicemail and facebook page will be updated to inform you of class status. If the studio is open and your instructor is available to teach the above guidelines will apply. If your instructor cancels the class, you will not be charged for the sessions and no makeup class is required.