Instructors
Lauren Crowther
Lauren Crowther is the owner and operator of Studio Technique. Lauren's extensive background as a dancer takes her back to the age of four. As a competitive dancer, Lauren trained at many prestigious schools and several workshops throughout North America. When Lauren began to incorporate Pilates into her dance training, she realized how it added a completely different level of strengthening and conditioning to her body. Pilates taught her how to integrate her mind with movement. Inspired by the results, Lauren knew she wanted to show others how to connect mind and body on a deeper level. Since 2007, Lauren has been a Fully Certified STOTT PILATES™ Instructor. She is certified on all pieces of equipment from essential right through to the advanced level. She has also completed the Injuries & Special Populations course, which has given her the knowledge to work with clients that suffer from sports injuries, Multiple Sclerosis, Chronic Back Pain, Arthritis, just to name a few. She enjoys working with clients of every skill level ranging from professional dancers, avid athletes, clients that need post rehabilitation, and pre and post natal women. Lauren's charismatic and energetic zest for life is contagious amongst her clients. Lauren is honoured to be an Ambassador for Lululemon Burlington at the Mapleview Mall! Lauren's greatest joy is being a mama to her beautiful baby girls Ella & Olivia.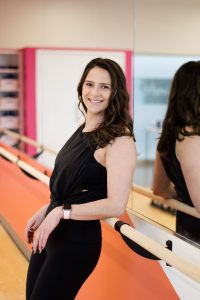 Melissa Bumbacco
Studio Technique would like to welcome with open arms, one of the newest members to our family Ms Melissa Bumbacco. Growing up as a competitive dancer since the early age of 5, her passion for health, movement + fitness kept thriving. In 2001, Melissa completed her under graduate degree in Kinesiology and Physical Education from Wilfred Laurier. Her studies taught her a much deeper understanding of the body, how it functions, its composition, and functional movements. Further certifications include 200hr Registered Yoga Training + Barrelaties Teacher Training.
Melissa first taught at Chrysalis Yoga and realized how much teaching allows her the opportunity and space to share her passion with others. Her style is unique, creative, hard and different each week to keep you on your toes! For Melissa, Barre is the best all in one workout because it helps to develop longer, leaner muscles, elements of strength training + flexibility all the while still getting an amazing cardio workout! Melissa cant wait to meet you at the Barre!
Fiona-Anne Crosier
Fiona is a fully trained professional dancer in classical as well as many other styles of movement and dance. Born in Newcastle Upon Tyne, UK, she began dancing at the age of 6 and at the age of 14 won the Northern Ballet Scholarship. At 16, she went on to undergo 3 years of professional full time training. Two years were completed at The Arts Educational School of London, where she obtained her "Royal Academy Of Dancing Advanced Examination" (ARAD) and one year at The Central School of Ballet; where she was sponsored and funded by "The Prince's Trust".
She began performing immediately after her training and has traveled, working in some of the most prestigious revues around the world, such as The Moulin Rouge in Paris. In her long list of performance contracts she has worked in theatre, cruise ships, television, film, video clips and modeling ranging from Soloist and Principle parts as well as Captain, Assistant Choreographer and Company Manager.
Fiona performed up until she met her husband who was from Oakville and after 20 years of performance, she moved to Canada and produced 3 beautiful children. To assist in her training, since the age of 16 Fiona has always taken part in a wide range of fitness classes either as a teacher or participant. After devoting over 7 years solely to her children she is now very happy to be teaching again. She has always insisted the best form of exercise is dance related and is very inspired to pass on her knowledge and passion of the technique.